Back on Black (Friday) Event
Altus Metrum is pleased to announce our "Back on Black (Friday)" event!
For the first time since the Black Forest fire in June, we're re-opening our web store this weekend with a host of new and classic Altus Metrum products, including a special pre-order discount on our latest-and-greatest flight computer design, TeleMega.
This weekend only, Friday, 29 November 2013 through Monday, 2 December, 2013, the first 40 TeleMega direct orders placed through our web store will receive a special $50 pre-order discount (regular $400, now only $350!).

TeleMega is an advanced flight computer with 9-axis IMU, 6 pyro channels, uBlox Max 7Q GPS and 40mW telemetry system. We designed TeleMega to be the ideal flight computer for sustainers and other complex projects. TeleMega production is currently in process, and we expect to be ready to ship in mid-December. Pre-order now and we won't charge you until we ship. Learn more about TeleMega at:
We are also pleased to announce that TeleBT is back in stock. Priced at $150, TeleBT is our latest ground station that connects to your laptop over USB or your Android device over BlueTooth. Learn more about TeleBT at
Another new product we're thrilled to announce is EasyMini! Priced at only $80, EasyMini is a two-channel flight computer with built-in data logging and USB data download.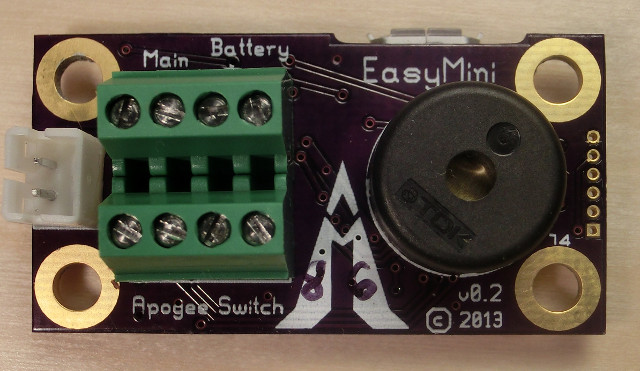 Like our more advanced flight computers, EasyMini is loaded with sophisticated electronics and firmware, designed to be very simple to use yet capable enough for high performance airframes. Perfect as a first flight computer, EasyMini is also great as a backup deployment controller in complext projects. Learn more about EasyMini at:
Also in stock for immediate shipment is MicroPeak, our 1.9 gram recording altimeter available for $50. The MicroPeak USB adapter, also $50, has been improved to make data downloading a snap. Read more about these at:
You can learn more about these and all our other Altus Metrum products at http://altusmetrum.org. The special discount on TeleMega pre-orders is available only on orders placed directly through Bdale's web store at
Thank you all for your support of Altus Metrum during 2013. It's been a rough year, but we're having a great time updating our existing products and designing new stuff! We look forward to returning products like TeleMetrum and TeleMini to the market soon, and plan to introduce even more new products soon.